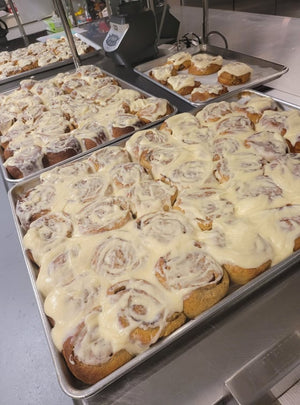 Owner's story
Jessica Toledo recently opened a Keto friendly, gluten-free bakery at 4 Mary B Lane Plymouth, MA in the Camelot Industrial Park off of Long Pond Road. Her business idea came about after she switched to a ketogenic eating plan after struggling for years with polycystic ovary syndrome. Jessica was diagnosed with the hormonal disorder when she was 22. She experienced weight gain, irregular menstrual cycles, and facial hair growth. Weight loss plans did not seem to work until she happened upon the ketogenic way of eating. The plan calls for high fat and low carbohydrate foods. Jessica had finally found a way to regain her health.
"I was gaining weight for years, and I felt pretty lost. I didn't know what was wrong. I was working out, but that wasn't working, I tried fad diets, and I was starving myself and eating only 500 calories a day. I was torturing myself. I was so unhappy. I was exhausted, I had blackouts, and I was dizzy and angry. I heard about keto, but I thought it could never work for me. The first meal I ate when I started it was a filet mignon, cauliflower au gratin, and a wedge salad. In two weeks, I lost ten pounds!" said Jessica.
She has managed to keep off the eighty pounds she lost after she "ketofied" her meal plan for four years. She started to figure out how she could allow desserts back into het" life and opened her bakery to provide others with delicious, keto friendly options as well.
"I realized that I could make any dessert keto. When I had a craving. I would figure out how to make a keto version. I used to bring my own dessert with me when I would go to restaurants. Grocery stores have no fresh baked goods that are Keto either, so I decided to do it myself. I did what I wanted instead of waiting for someone else to do It I want people to know they can have their cake and eat it too!" said Jessica.
Jessica's products, such as breads, bagels, donuts, cupcakes, brownies, cookies, cakes, and birthday cakes, are not only keto friendly but are also gluten-free.
"People who have celiac disease or diabetes want options for dessert too!" said Jessica.
Jessica is a business owner and mom to Tiara, Tiana, and Preston, and she credits lots of organization and patience with her ability to run her own business and raise three children. It's also important to her to serve as a role model, especially to her daughters and how they perceive their options in life.
"I think a woman can do anything a man can do. My dad always told me that if something like this was easy, then everyone would do it. It takes a lot of hard work. It's never a good time to start. Instead of waiting, just dive in and work as hard as you can. With time and effort and belief in your product, you will succeed. I want people to know they are not alone. I'm not a gym rat, but I am all about health. You can always change who you are. You can change your life for the better. I started doing keto one day at a time. I want people to reach out to me for advice about how it works. I understand exactly how they feel. Your health is totally worth it, and you're worth it!" said Jessica.